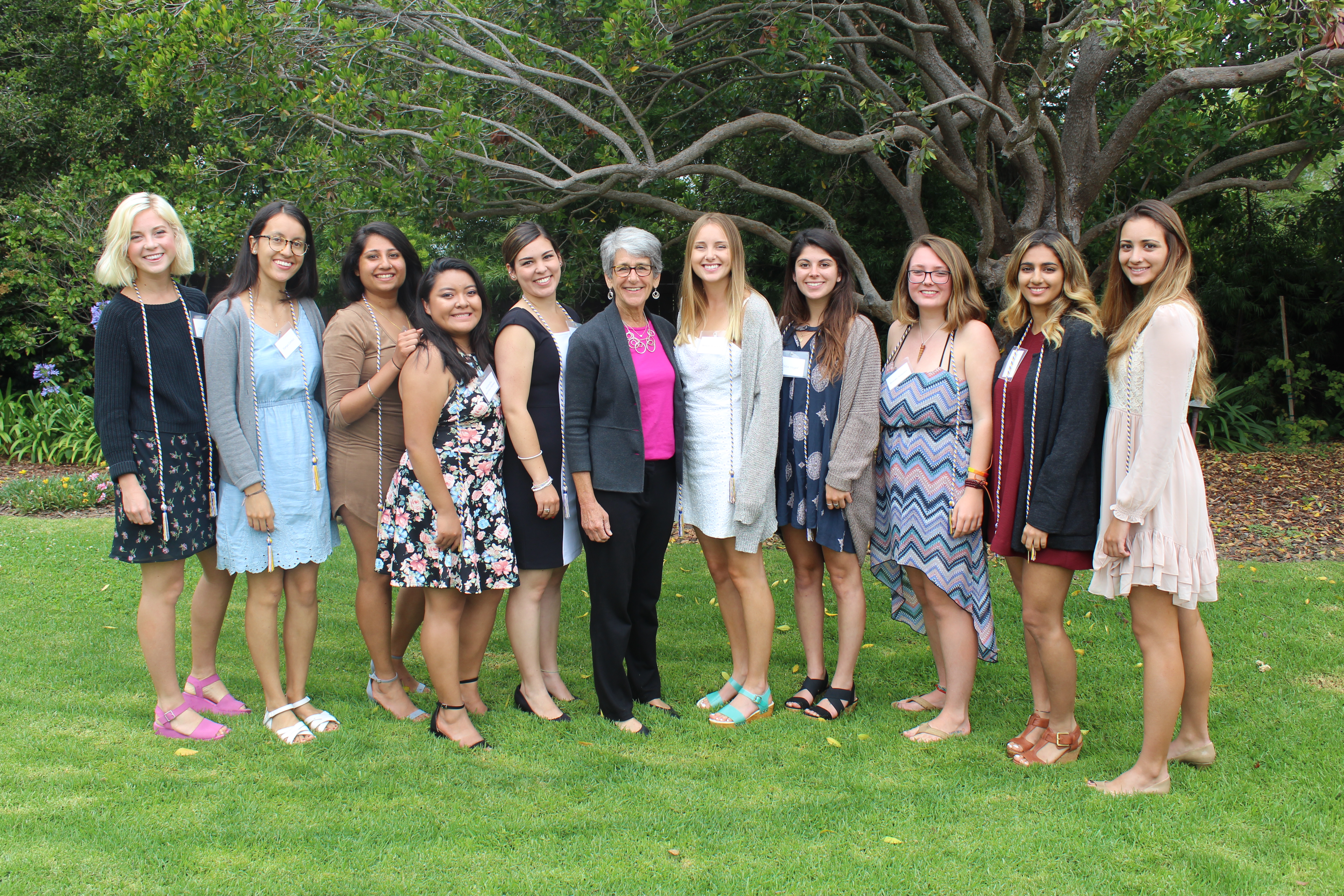 In Santa Barbara
The Sara Miller McCune Endowed Internship and Public Service Program is a year-long service-learning program that integrates academic study with a paid internship in a local nonprofit organization. We place civic-minded UC Santa Barbara undergraduate students who have an interest in public service in a local Santa Barbara nonprofit, where they contribute substantively to the missions of nonprofit organizations while also exploring their own interests and passions and gaining valuable professional experience.
Students who are selected to serve as interns receive stipends totaling $2,000 and eight (8) units of course credit during their Junior or Senior year. They spend the fall quarter in a preparatory seminar, for which they receive four (4) units of academic credit. The course, entitled "Seminar in Social Ethics" (RGST 156CC), involves assigned readings and class presentations by leaders of local nonprofits or non-governmental organizations. The course helps to prepare students for their internships and provides them with training to pursue a career in the nonprofit sector. During the winter and spring quarters, students serve as paid interns for a total of 200 hours (10 hours per week) in a local nonprofit organization under the supervision of a staff mentor, and also attend two meetings with the internship program coordinator. Participating students are paid half of their stipend ($1,000) for fulfilling their fall/winter requirements and the other half ($1,000) for completing the requirements for the spring quarter. In the spring quarter, in addition to their internships, students enroll in an Independent Studies course for which they receive four (4) units of academic credit. In this course, students prepare a paper integrating what they have learned through their studies and internship experiences. Finally, at the end of the academic year, each cohort of students participates in an end-of-year certificate ceremony.
Applications for the 2021-2022 McCune Internships will be available in April 2021.
2019-20 Capps Interns and Affiliations
Viviana Avelar, Santa Barbara County Promotores Network
Gabriela Chavez, Ensemble Theatre Company
Kate Cobarrubia, Fielding Graduate University
Joy Gursky, Santa Barbara City College Foundation
Yasmine Ibrahim, Sierra Club
Hanna Kiefer, Santa Barbara County ACEs Connection
Mariyah Lewis, Council on Alcoholism and Drug Abuse (CADA)
Eric Nava, Santa Barbara Alternatives to Violence Project
Zainab Noorsher, Doctors Without Walls: Santa Barbara Street Medicine
Kat Williams, Fund for Santa Barbara
Yasmine Ibrahim

My experience in the Capps Center Internship Program and the Sierra Club (Los Padres Chapter)has deepened my love for working in the nonprofit sector and helped me find the intersection between working with policy and working on issues of global importance.
Gaby Chavez

I interned at the Ensemble Theatre Company in downtown Santa Barbara.I was involved in the Development and Education departments, where I learned about how a professional non-profit theatre company functioned. Through this internship, I learned about professionalism, as well as about what it takes to work in the Arts and Culture sector. I learned to advocate for myself and others and to give help and a smile to those I can. Through the different tasks I was assigned, such as future community projects and attending events (in person and remotely), I acquired skills and knowledge about the non-profit field, which I have benefited from immensely. I thank Nonie Hamilton, my mentors, and Maeve Devoy for the help, guidance, and patience they gave me through Capps' McCune Internship program.
---
In Washington, D.C., and Sacramento
The Capps Center awards financial stipends of $1,000 to advanced UC Santa Barbara undergraduates who submit creative proposals for internships. Interns serve in government agencies of the State of California and at non-government organizations coordinated through the UC Sacramento Center (UCCS), or in congressional offices or other federal or private agencies in Washington, D.C., coordinated through the UC Washington Center (UCDC).
Capps interns are selected on the basis of academic credentials, career interests, and compatibility of the proposed internship with the Capps Center's mission of fostering dialogue on critical public issues.
Interested students should apply directly to the UCDC/UCCS Program Office, 2110 North Hall at UCSB (www.duels.ucsb.edu/academics).
Recent Capps Interns and Affiliations
Viviana Barragan, Embajada de México en Estados Unidos (Embassy of Mexico in the United States)
Matthew Beyer, Environmental Law Institute
Marissa Martin, Office of Congressman Lou Correa (CA-46th District)