If you missed our Hungry and Homeless event tune in to KCSB at 5:00 pm on Wednesday, June 9, (KCSB 91.9FM, kcsb.org).
---
Read coverage of Nick Tilsen's visit to the Capps Center in The Current.
---
Are you interested in public service? Curious about a career in the nonprofit sector?
---
Ethics & College Experience (RG ST 156CE),Wall St. Ethics (RS 190WE) and Have Ethics Gone Awry (RS 190GA) will be offered Spring Quarter. If you would like to find out more, reference the following flyers. 
---
We are grateful to receive a VOICE grant from the UC National Center for Free Speech and Civic Engagement. We join our partners, AVC/DOS Katya Armistead and Student Engagement and Leadership's Viviana Marsano, in creating the new Civic Engagement Scholars Program.
---
Free Speech, White Supremacy, and Insurrection: Suggested Readings and Resources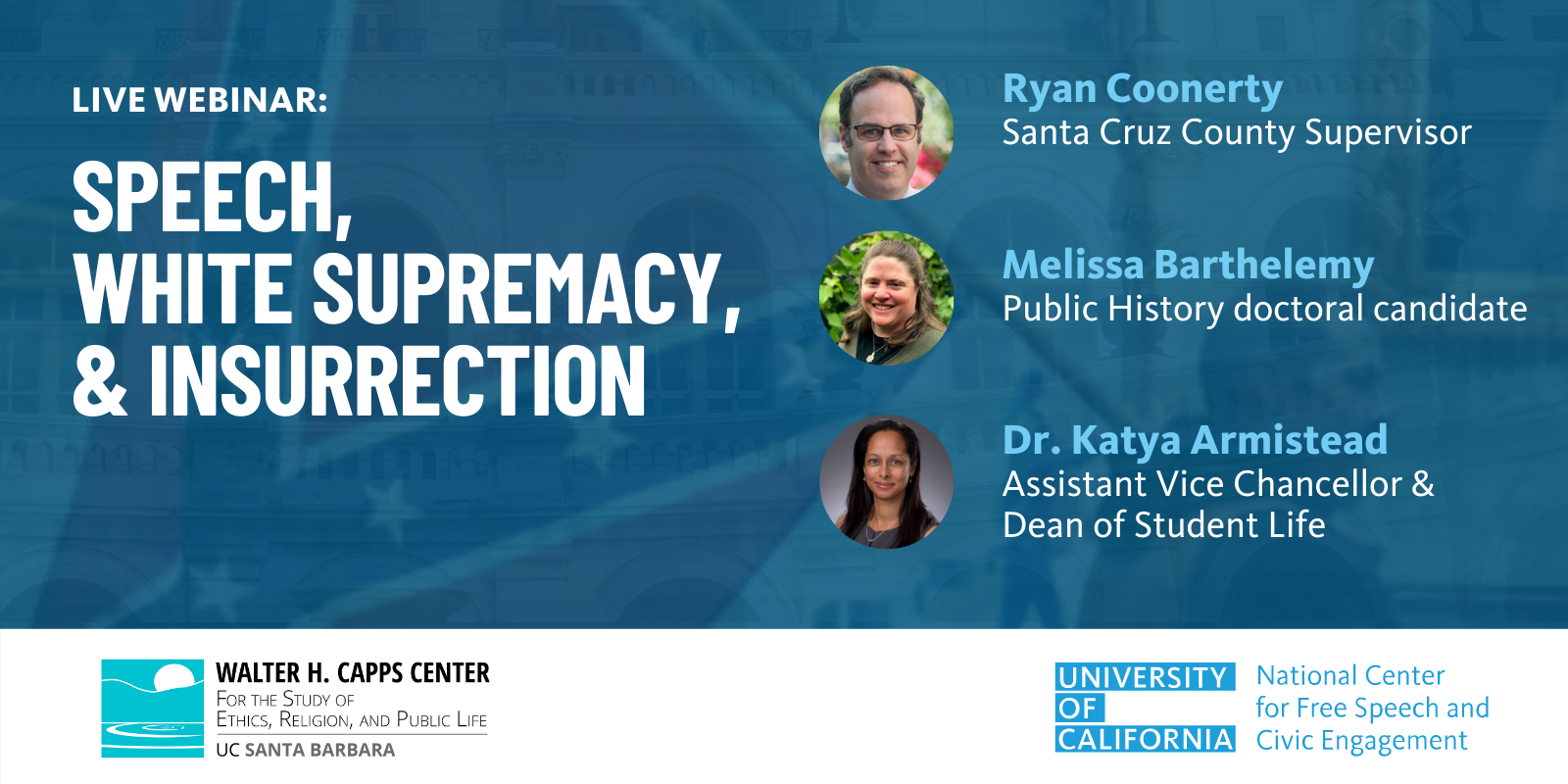 ---
Brad Onishi (Skidmore College), host of the Straight White American Jesus podcast, has an opinon piece in the New York Times. Onishi places the January 6th insurrection at the United States Capitol within the longer trajectory of American religious political history and particularly the Confederacy.
Created by Professors Brad Onishi (Skidmore College) and Daniel Miller (Landmark College), Straight White American Jesus features conversations with scholars on a variety of issues related to religion and politics.

---
HFA covers Indigenous Communities and Intersectional Environmental Ethics.

---
 The Daily Nexus covers our election event.

---
UC Santa Barbara's Division of Humanities and Fine Arts covers our election events. 
---
Tune in to KCSB at 4:00 pm on Thursday, October 29, for a broadcast of Presidential Election: What Students Want (KCSB 91.9FM, kcsb.org).

---
Read coverage of the October 26th election event at the Santa Barbara News-Press.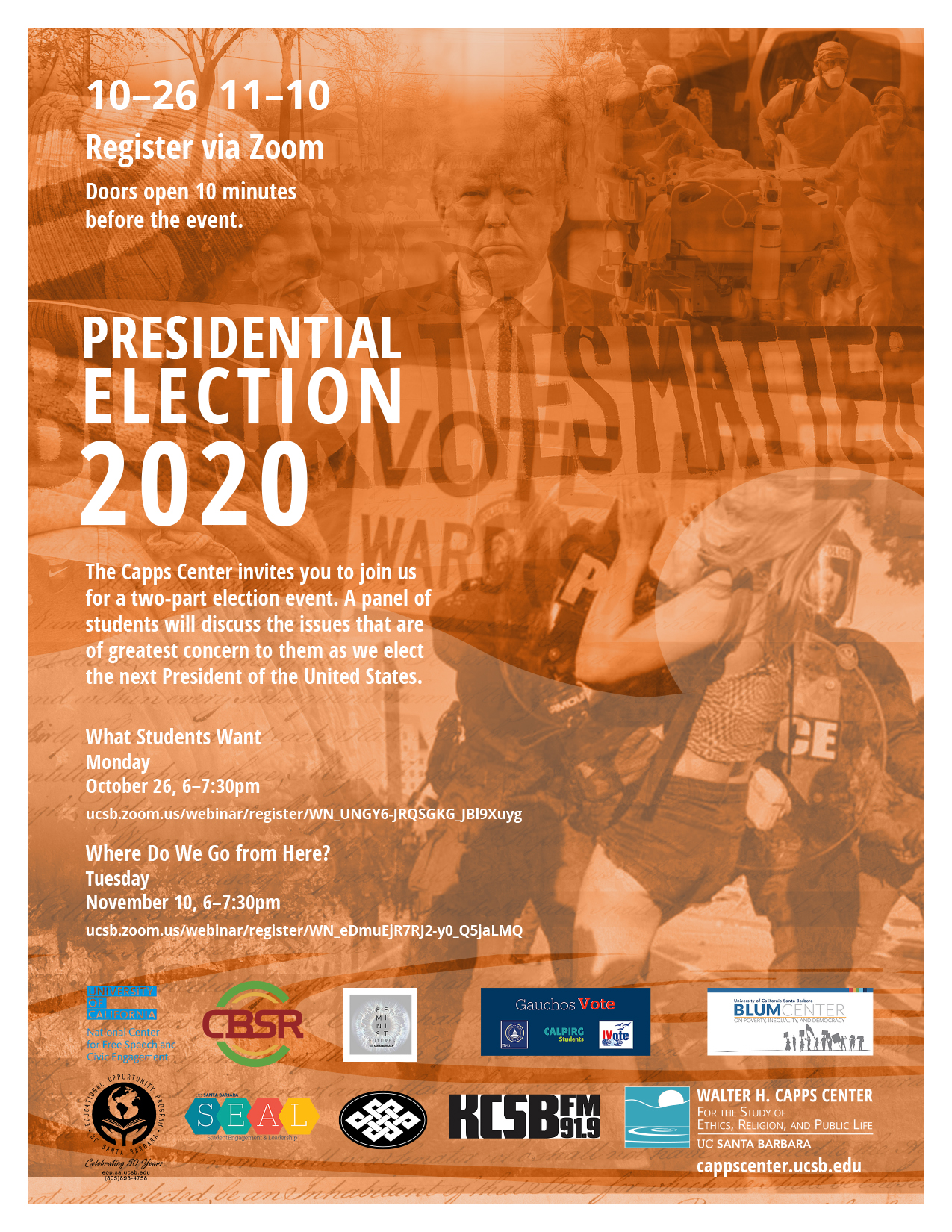 ---
Capps Center Director Greg Johnson recently contributed to a forum on Indigenous Peoples, Sacred Rights, and Religious Freedom (Georgetown University Berkley Center for Religion, Peace & World Affairs). Read his piece on "Religious Freedom, Direct Action, and Rethinking Foundations."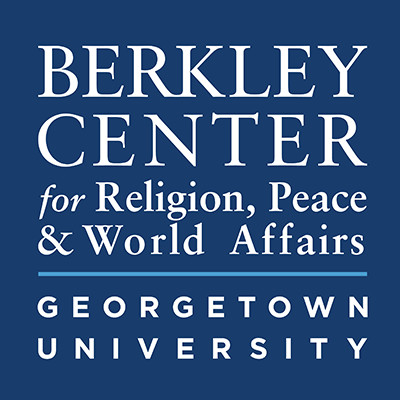 ---
On October 13th, Professor Kaleikoa Ka'eo (University of Hawai`i, Maui) gave the inaugural presentation of the Capps Annual Symposium. This year's theme is Ethics in Place: A Symposium on Indigenous Peoples and the Future of Principled Democracy. Read the Santa Barbara Independent's coverage.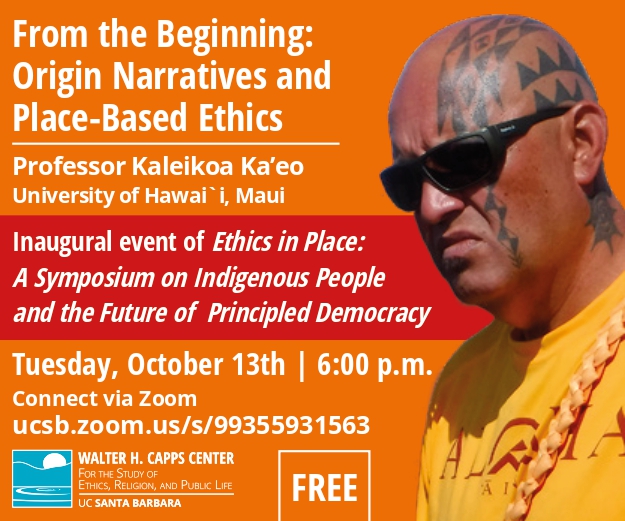 ---
We are pleased to announce our affiliation with biweekly podcast Straight White American Jesus, hosted by Professors Bradley Onishi (Skidmore College) and Daniel Miller (Landmark College).