Wade Clark Roof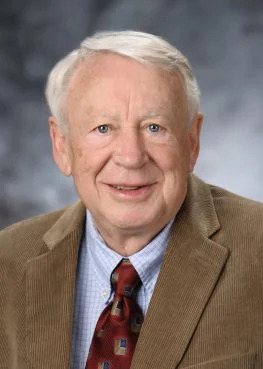 Wade Clark Roof (1939-2019) helped found the Walter H. Capps Center for the Study of Ethics, Religion, and Public Life in 2002, and served as its director until 2017. Clark--as he preferred to be called--joined the Department of Religious Studies at the University of California, Santa Barbara, in 1989 as the J. F. Rowny Professor of Religion and Society, having already established a significant profile in the sociology of religion. He retired in 2013 as the J. F. Rowny Distinguished Professor Emeritus of Religion and Society.
Prior to UCSB, Clark was a professor of Sociology at the University of Massachusetts, Amherst, from 1970-1989. He earned his B.A. (1961) from Wofford College, M.Div. (1964) from Yale Divinity School, and M.A. (1969) and Ph.D. (1971) from the University of North Carolina at Chapel Hill. 
In 2018, Clark won the Association for the Sociology of Religion's Lifetime Achievement Award for Contributions to the Sociology of Religion, and in 2019 he won the Martin E. Marty Public Understanding of Religion Award from the American Academy of Religion. (Click here to listen to the AAR panel posthumously awarding Clark the Martin E. Marty Award for the Public Understanding of Religion.) After his death in 2019, several news outlets featured articles about his work and legacy, including Christian Century, Religion News Service, Social Science Space, and the Santa Barbara News-Press.
Clark's research identified and interpreted significant changes in American religious life, shaping scholarly debates and popular understandings of our religious present. Clark first gained renown in the sociology of religion for his groundbreaking work on the decline of liberal or mainline Protestantism. He garnered more widespread public attention for his 1993 book, A Generation of Seekers, which explored changing spiritualities amongst Baby Boomers. This book led to many national media appearances—on television and radio, in newspapers and magazines—and regular work as a religion consultant for NBC, CBS, and PBS. He followed it up in 1999 with Spiritual Marketplace, a book that traced the continuing influence of the Baby Boomers on American spirituality, increasing secularization, growing conservativism, and adapting congregational worlds. In these and later works, Clark combined rigorous scholarship with a storyteller's gift to reach beyond the halls of academe and impact how Americans think about religion.
Clark made sociology of religion matter through public and global engagement. For over fifteen years he directed two major programs that brought scholarship about religion and ethics to wider audiences. In addition to serving as the founding director of the Walter H. Capps Center for the Study of Ethics, Religion, and Public Life, Clark oversaw an annual summer institute for the U.S. State Department on "Religion in the U.S.: Pluralism and Public Presence" that educated over 250 foreign scholars, civil servants, journalists, and NGO leaders from over 80 countries about religious diversity, church-state issues, and the study of religion in the United States. He served as director or co-director of the Summer Institute for 15 years. These programmatic initiatives connected scholarly expertise about religion with local, national, and global audiences, enhancing public dialogue about religion in the modern world.
Clark's CV lists his many contributions to sociological scholarship and public discourse about religion. The impact of his research goes beyond chronicling and theorizing generational change in religion; it has trained a generation of sociologists to attend to fluidity in religious identity. Through his work, we see reflexivity, experimentation, individual experience, self-expression, and questioning authority as central to the contemporary American religious experience. Clark combined original large-scale, national surveys and refined statistical analysis with in-depth personal interviews, biographical portraits, and congregational studies in his research. This mixed-methods approach influenced other sociologists of religion and built bridges with scholars in religious studies and the humanities. Through his scholarship, professional service, and media presence, Clark reshaped academic dialogues about religion and spirituality and educated the public about contemporary transformations in the American religious landscape.
Scholarship
Clark was best known for his work on mid-to-late 20th century shifts in American mainline Protestantism, Baby Boomer spirituality, the contemporary spiritual marketplace, and religious pluralism. Clark authored or co-authored five books, including the seminal studies American Mainline Religion: Its Changing Shape and Future (1987) (with W. McKinney), A Generation of Seekers: The Spiritual Journeys of the Baby Boom Generation (1993), and Spiritual Marketplace: Baby Boomers and the Remaking of American Religion (1999). These works are landmarks in the field of sociology of religion in the United States.
Clark's first book, Community and Commitment: Religious Plausibility in a Liberal Protestant Church (1978), explored cultural and religious shifts in mainline Protestantism through the lens of an Episcopalian diocese in North Carolina. He found that cultural cleavages and heightened political divisions challenged the plausibility of liberal Protestantism for many Americans. Increasingly, conservative theological views aligned with conservative social, political, and cultural views, he found, while liberal social causes led some to leave liberal denominations. Clark's findings led him to begin a national study of liberal Protestantism to examine similar emerging trends nationwide.
He continued to research and publish on transformations in mainline Protestantism, leading to his co-authored work American Mainline Religion (1987). This widely-cited book traced the "new voluntarism" in American religious life, a realignment of religious groups along axes of shared moral and cultural views rather than social or economic lines. It documented the decline of liberal Protestantism, the rise of an assimilated and assertive Catholicism, and the resurgence of conservative evangelical Protestantism as a religious, cultural, and political force. This work helped shape the sociological understanding of American religion, once again demonstrating the importance of cultural influences on religious groupings, beliefs, and practices.
A Generation of Seekers (1993), published by HarperSanFrancisco, had a particularly broad public impact. The book was reviewed in major national newspapers, garnered several media interviews with Clark about his findings, and tapped a cultural zeitgeist. It helped popularize the phrase "spiritual seekers" in the American lexicon. In 1993, the New York Times profiled Clark regarding his findings. Published during the first term of the first Baby Boomer president, Bill Clinton, A Generation of Seekers sparked national conversations about the decline of religious institutions, growing pluralism, spiritual renewal, and other transformations in American religion. It inspired dozens of popular press and pastoral books about spiritual seeking, new congregational formations, and religious change in contemporary America. President Clinton even quoted from the book in one of his speeches.
Spiritual Marketplace (1999) refined Clark's prior research on the Baby Boomers, showing how they reshaped American religion through a "quest culture" and "reflexive spirituality" that valued personal experience, questioning of authority, self-expression, authenticity, and experimentalism. These changes impacted those who remained in churches and those who left. They took place in an era of increasing pluralism, distancing from organized religion, declining traditional theism, growth of spiritual seeking, development of new digital technologies, and skyrocketing options for spiritual bricolage. Clark's two books on the Baby Boomers were breakthroughs in the sociology of American religion and continue to be widely cited by scholars who study contemporary American spirituality and religious change during the late 20th century.
Clark's co-authored book Bridging Divided Worlds: Generational Cultures in Congregations (2002) (with Jackson W. Carroll) investigated generational tensions in American congregational life, showing that such pressures can open new opportunities for spiritual enrichment and pastoral adaptation as well as difficulties in sustaining liberal faith networks. It served as a culmination of his work on generational cultures and specifically reflected on how various religious groups demonstrated openness to the changes he documented in earlier works.
Each of these books combined large-scale surveys, personal interviews, demographic data, and media reports to paint portraits of individual lives, congregational communities, and national denominations in their social contexts. Clark's work relied on yet critiqued fellow sociologists and theorists such as Emile Durkheim, Karl Mannheim, Clifford Geertz, Peter Berger, Robert Bellah, and Andrew Greeley. Clark's concepts described above have influenced generations of scholars in the sociology of religion and regularly appear in new scholarly texts about American spirituality, secularization in the U.S., and contemporary mainline Protestantism, among others.
In addition to monographs, Clark edited or co-edited several other books, including Liberal Protestantism (1985), World Order and Religion (1991), Beyond Establishment (1993), The Post-War Generation and Establishment Religion (1995), Work, Family, and Religion in Contemporary Society (1995), and Religion and Public Life in the Pacific Region (2005). He also edited two encyclopedias, Contemporary American Religion (2000) and Encyclopedia of Global Religion (2012). Clark edited five special issues of the Annals of the American Academy of Political and Social Science. He also published 60 journal articles, 45 chapters in edited volumes, and over 55 book reviews in academic journals, mostly in sociology of religion journals and books.
Clark won over $2.2 million as principal or co-principal investigator for over 20 research grants, including from the Lilly Endowment, Pew Charitable Trusts, Luce Foundation, Ford Foundation, National Science Foundation, and Social Science Research Council. These grants funded research on important topics such as residential segregation, liberal Protestantism, young Catholics, religion and biography, religious pluralism, congregations and civic culture, and progressive religious voices. They formed the basis for articles and books, and many helped train graduate students in research methods or led to dissertation projects.
Clark presented over one hundred times at major academic conferences, theological centers, universities, and public policy forums. These include such prestigious venues as the American Academy of Arts and Sciences, Fulbright Lectures, German Marshall Fund Lectures, John Foster Dulles Lectures on Religion, John F. Kennedy Institute, Brookings Institution, Anti-Defamation League, National Religious Broadcasters Association, and the Bi-Partisan California Congressional Delegation conference. From 2004-2010, Clark served as a senior specialist for the Fulbright Program at the U.S. State Department, presenting lectures around the world about religion, politics, and society in America. His speaking engagements demonstrate his ability to convey academic expertise to policymakers at home and abroad.
Over the course of nearly fifty years, Clark produced a body of scholarship as apropos of the times as it was influential amongst scholars and the wider public. He propagated concepts that have helped define the sociology of religion in America, and documented trends that continue to develop along lines he suggested. It is difficult to produce responsible scholarship about late 20th century American religion without taking into account Clark's work, and it is impossible to account for contemporary American spirituality in sociological scholarship without reckoning, one way or another, with his interpretations.
Professional Service
Clark's service to the profession was as remarkable as his scholarly accomplishments. He served in executive capacities for the Association for the Sociology of Religion (vice president, 1986-1987), Society for the Scientific Study of Religion (executive secretary, 1978-1983, and president, 1995-1997), and Religious Research Association (board of directors, 1978-1982 and 1987-1990, and president, 1990-1992). He was also a member of the International Society for the Sociology of Religion, American Sociological Association, and American Academy of Religion. Clark served on advisory committees for the American Academy of Religion, a three-year term on the Advisory Council for the National Endowment for the Humanities, and on several departmental and university committees. He chaired the UCSB Religious Studies Department for five years (1999-2004). Clark also served as an editor, reviewer, or referee for over two dozen journals and monograph series, and as a grant referee for the National Science Foundation, Templeton Foundation, Lilly Endowment, and Swedish Research Council.
Applying his sociological expertise on religion in the United States, Clark advised several social scientific surveys and public opinion polling firms, including the National Opinion Research Center (preparing the General Social Survey), Pew, Gallup, Public Religion Research Institute (PRRI), and the Princeton Religion Research Center. Internationally, Clark served on the advisory council for the Societe Internationale de Sociologie des Religions and later held the Distinguished Tocqueville/Fulbright Chair in American Studies, Ecole des Hautes Etudes en Sciences Sociales, Paris. He also served as Academic Director for the Interfaith Dialogue and Action committee of the Council on International Exchange of Scholars.
Clark advised 28 graduate students who earned Ph.D.s. Over a dozen published their dissertations as books and have gone on to distinguished careers of their own. He was also a beloved professor to thousands of undergraduate students at UMass-Amherst and UCSB. In addition, Clark trained future generations of sociologists of religion and religious leaders through his work with the Young Scholars in Religion program at Indiana University, the Center on Religion and Democracy, the National Council of Churches, Hartford Seminary, and Synagogue 3000/S3K Synagogue Studies Institute.  
Media
Clark guided national dialogue about religion in American life through his consistent presence in national media, particularly through consulting, interviews, and public writing. He influenced public debates about religion through his participation as an advisor or board member for several media organizations, including serving as a consultant for NBC News, PBS's "The MacNeill-Lehrer NewsHour," and a CBS documentary. He also advised budding reporters and faculty at the Medill School of Journalism at Northwestern University.
Clark's work has been discussed by the New York Times, Time, CNN, NBC, CBS, PBS, NPR, BBC, Voice of America, Radio Australia, and in other outlets. He was a repeat guest on PBS' "The MacNeill-Lehrer NewsHour" and "Religion & Ethics Newsweekly," where he offered professional commentary from 1992-2006. Over a dozen additional periodicals interviewed Clark or featured his work, including Newsweek, Washington Post, Los Angeles Times, Wall Street Journal, Salt Lake Tribune, Miami Herald, Atlanta Journal-Constitution, USA Today, U.S. News & World Report, Ladies' Home Journal, Christian Science Monitor, The Economist, Forbes, and Reader's Digest. Clearly, Clark's work and his ability to translate it resonated with media and popular audiences, shaping the public understanding of religion here and abroad.
Beyond media interviews, Clark regularly contributed to the public discourse about religion in American public life through newspaper editorials and online contributions. These include published articles and editorials in many prominent venues, such as the New York Times, Wall Street Journal, Baltimore Sun, San Francisco Chronicle, Christian Century, Huffington Post, Religion Dispatches, Immanent Frame, and local newspapers in California. From media interviews about church membership trends and "spiritual but not religious" people to reflections about the rise of the "Nones" and religion and violence, Clark remained deeply committed to public dialogue about religion and society.
Public Humanities
From 2002-2017, Clark directed the Walter H. Capps Center for the Study of Ethics, Religion, and Public Life. After Capps' death in 1997, Clark worked with Capps' wife, Rep. Lois Capps (who served in the U.S. House from 1998-2017), to secure funding from Congress and the National Endowment for the Humanities as well as funding from the University of California and local donors to develop the Capps Center. It opened in 2002 with Clark as its director. Supported by a $4 million endowment funded by the NEH and private donors, the Capps Center offers a range of programming to improve the public understanding of religion and ethics in public life for the California Central Coast community. As director for 15 years, Clark ensured that the Center accomplished its mission to involve the public in serious, ongoing engagement with important social, political, religious, and ethical issues.            
Capps Center programming has included public lectures/forums on ethics and public policy; roundtable conversations with local business, civic, and political leaders; thematic lecture series on sustainable living and world religions; and endowed lectureships in human rights, world harmony, bipartisan bridge-building, and religion in America. These include the Martin E. Marty Lecture on Religion in American Life, Hamdani World Harmony Lectures, Wade Clark Roof Lectures on Human Rights, Capps-Emerson Memorial Lectures for Bi-Partisan Bridge-Building in Washington, D.C., Henry Schimberg Symposium on Business Ethics, Henry Schimberg Endowment in Ethics and Enterprise, and Sara Miller McCune Endowed Internship and Public Service Program. The Capps Center has sponsored community discussions about the Manhattan Mosque controversy, international terrorism, government surveillance, sustainability, climate change, nuclear power, corporate capitalism, sexual assault, women's health, medical ethics, immigration policy, mass incarceration, race and policing, and poverty.  
Over 400 speakers have presented lectures in public humanities for the Capps Center, including well-known figures such as Bill Moyers, E. J. Dionne, Martin E. Marty, Garry Wills, Diana Eck, Sister Joan Chittister, Rev. Bernice King, Thich Nhat Hanh, Hans Küng, Richard Rodriguez, Jim Wallis, Jean Bethke Elsthain, Peter Steinfels, Gustav Niebuhr, David Saperstein, Michael Lerner, Sandra Day O'Connor, Kwame Antony Appiah, and Nobel Peace Prize winners Sherin Ebadi and Towakkol Karman. Sociologists of religion and related academics who lectured at the Capps Center include Michele Dillon, Grace Davie, Sarah McFarland Taylor, Edward Linenthal, Philip Hammond, Mark Juergensmeyer, Stewart Hoover, Alan Wolfe, Harvey Cox, and Robert Orsi.
Clark's legacy of public humanities was honored by leaders in our federal government. In a personal letter dated May 30, 2013, President Bill Clinton recognized Clark's "thought-provoking observations about the evolution of religion in America" and his "contributions to this important conversation." On May 25, 2016, coinciding with his full retirement from UCSB, Rep. Lois Capps spoke in the U.S. House honoring Clark's work as a scholar, educator, and director of the Capps Center. Her remarks were entered into the official Congressional Record. 
Global Engagement
From 2002-2016, Clark served as director or co-director of the Fulbright/U.S. Department of State annual summer institute "Religion in the U.S.: Pluralism and Public Presence," part of the State Department's Study of the United States Institutes (SUSI). This program, funded by about $3.5 million in federal grants over 15 years, educated foreign scholars, civil servants, journalists, and NGO leaders about religious diversity, church-state issues, and the study of religion in the United States.
More than 250 people participated in the Summer Institute under Clark's direction, representing over 80 nations in Africa, Asia, Europe, South America, and Oceania. Major U.S. scholars, local clergy, and civic leaders led daily workshops, and participants visited with clergy at houses of worship across a range of traditions. Each year, 18 participants attended the four-week program in Santa Barbara, then traveled for two weeks to Los Angeles, Salt Lake City, Atlanta, and Washington, D.C., to visit important and representative religious sites. Participants presented their own research findings regarding their respective countries at a program-sponsored symposium each year. These workshops facilitated international collaboration amongst religious studies scholars, some of whom went on to publish academic and popular works in their home countries. Clark also helped Summer Institute alumni organize follow-up research conferences in Germany, Hungary, Spain, Tunisia, Japan, China, and Argentina. Through the Summer Institute, participants gained a more informed perspective on religious freedom and pluralism in the U.S. and greater awareness of these issues in their home countries. The Institute influenced their teaching about American religiosity and it provided opportunities for cultural diplomacy and international networks of scholars, public officials, and religious leaders.  
In addition, Clark's work received a broad international reputation through lectureships, service, and media. He lectured around the world at prestigious forums, including Fulbright Lectures, German Marshall Fund Lectures, and the Oslo Lectures on Religion and Modernity, where he discussed religion in America with scholars and policy leaders. Furthermore, Clark was interviewed about his work in major newspapers in Canada, Scotland, and England, on Radio Australia, and on BBC TV. Clark was committed to international scholarly collaboration, to offering commentary on sociological religious dynamics before diverse worldwide audiences, and to advancing the public understanding of religion on a global scale. 
Selected Works by Wade Clark Roof
Ammerman, Nancy Tatom, and Wade Clark Roof, eds. Work, Family, and Religion in Contemporary Society. New York: Routledge, 1995. 
Carroll, Jackson W., and Wade Clark Roof. Bridging Divided Worlds: Generational Cultures in Congregations. San Francisco: Jossey-Bass, 2002.
Carroll, Jackson, and Wade Clark Roof, eds. Beyond Establishment: Protestant Identity in a Post-Protestant Age. Louisville, KY: Westminster John Knox Press, 1993.
Juergensmeyer, Mark, and Wade Clark Roof, eds. Encyclopedia of Global Religion. Los Angeles: SAGE, 2012.
Michaelsen, Robert S., and Wade Clark Roof, eds. Liberal Protestantism: Realities and Possibilities. New York: Pilgrim Press, 1986.
Roof, Wade Clark. Community and Commitment: Religious Plausibility in a Liberal Protestant Church. New York: Elsevier, 1978.  
___. A Generation of Seekers: The Spiritual Journeys of the Baby Boom Generation. San Francisco: Harper San Francisco, 1993.
___. Spiritual Marketplace: Baby Boomers and the Remaking of American Religion. Princeton, NJ: Princeton University Press, 1999.
Roof, Wade Clark, ed. World Order and Religion. Albany: SUNY Press, 1991.
___, ed. Contemporary American Religion. New York: Macmillan, 2000.
Roof, Wade Clark, Jackson W. Carroll, and David A. Roozen, eds. The Post-War Generation and Establishment Religion: Cross-Cultural Perspectives. Boulder, CO: Westview Press, 1995.
Roof, Wade Clark, and William McKinney, eds. American Mainline Religion: Its Changing Shape and Future. New Brunswick, NJ: Rutgers University Press, 1987. 
Roof, Wade Clark, and Mark Silk, eds. Religion and Public Life in the Pacific Region: Fluid Identities. Walnut Creek, CA: AltaMira Press, 2005.              
CV
You can find Clark's full CV here.
-- Written by Dusty Hoesly in 2019